Bitdefender GravityZone Enterprise Security

Endpoint security fit for your offices, datacenters and public cloud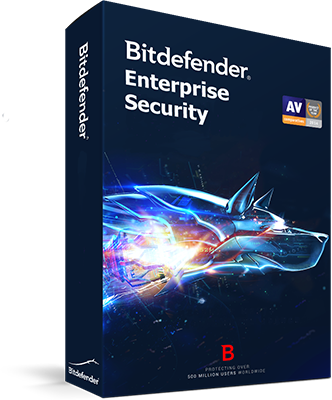 Overview:
GravityZone is built from the ground up for virtualization and cloud to deliver business security services to physical endpoints, mobile devices, virtual machines in private, public cloud and Exchange mail servers.
GravityZone Enterprise Security provides flexible licensing options to fit the protection needs of your offices, datacenters and public cloud. All security services are delivered from one virtual appliance to install on premise covering all endpoints across your environment.

Unfollow the Traditional
Unlike traditional solutions that patch together pre-virtualization and pre-cloud Windows applications, Bitdefender GravityZone combines all the security services an organization needs into a single delivery platform to reduce your cost of building a trusted environment for all endpoints.
Benefits:
Intelligent deployment
Executed in minutes, not days. Self-configuring kit streamlines deployment from desktop to datacenter to cloud.
Eliminate protection gaps
Environment-aware agent secures all types of endpoints: physical, virtual and cloud-based.
Manage risks while optimizing virtual and physical performance resource
Offload security tasks from local machine to security virtual appliances for all types of endpoints in the datacenter and for laptops and desktops.
Faster immunity to attacks
Employs the Bitdefender Global Protective Network technology on all endpoints within three seconds of detection of a new threat anywhere in the world.
Features:
One application
Delivering security services to physical endpoints, mobile devices, Exchange mail servers and virtual machines in private and public cloud;
One console
Offering easy centralized management, easy deployment and enforcement of security policies to any type and number of endpoints, in any location;
One architecture
Enabling full visibility and control in the datacenter and companywide through integration with Active Directory, VMware and Citrix hypervisors;
One agent
Covering any combination of virtualization platforms, cloud providers, operation systems and physical devices;
Multiple layers of security
For endpoints: antivirus and antimalware with behavioral monitoring, zero-day threat protection, through advanced anti-exploit detection, powerful anti-ransomware defense, application control and sandboxing, firewall, device control and content control with anti-phishing and antispam for Exchange mail servers.
Multiple anti-ransomware defense
Bitdefender has a layered approach in catching ransomware, through similarity-based detection, Using advanced behavior-based technologies, Bitdefender detected 99% of unknown threats in independent trials run by reputed independent testing organization, AV-Comparatives. Bitdefender also has two additional anti-ransomware defense layers – a blacklist of 2.8 million samples and rising, and a vaccine that can immunize devices against the encryption process.
Universal coverage:
Any endpoint: physical, virtual and cloud;
Any form factor: workstation, server, embedded, mobile;
Any OS: Windows, Linux, Mac;
Any virtualization platform: VMware, Citrix, Microsoft Hyper-V, KVM, Oracle;
Organizations of any size: scales from tens to millions of endpoints just by cloning virtual appliances;
Any environment: datacenters, local area networks, wide area networks, private cloud, public cloud and hybrid cloud;
Tightly integrates with VMware NSX;
Smart centralized scanning employs
Centralized security servers, where most antimalware processes take place after offloading from each protected physical or virtual machine.
System Requirements:
Security Services Delivered by GravityZone Enterprise Security On-Premise Installation
Protected System and Platforms
Security for Virtualized Environments
Security for Endpoints
Security for Exchange
Security for Mobile
Guest OS:

Windows
Oracle Solaris
Linux

All virtualization platforms:

VMware
Citrix
Hyper-V
Linux Red Hat
Oracle VM

Server OS:

Workstation OS:

Tablet and embedded OS:

Windows Embedded
Windows XP Tablet PC

Mail Servers:

Exchange 2007, 2010, 2013, 2016
Physical and virtual servers
Roles: Edge, Hub and Mailbox
Protocols: SMTP, MAPI, Exchange ActiveSync

Mobile platforms:

Apple iPhones and iPad tablets
Google Android smartphones and tablets
Widest Virtualization and Operation Systems Coverage Through Technology Partnerships
Integration with VMware
VMware vSphere 4.1, 5.0, 5.1, 5.5, 6.0 with VMware vCenter Server 4.1, 5.0, 5.1, 5.5, 6.0
VMware View 5.0, 5.1, 5.2, 5.3
VMware Workstation 8.0.6, 9.x, 10.x, 11.x
VMware Player 5.x, 6.x, 7.x
ESXi 4.1 (build 433742 or higher), 5.0 (build 474610 or higher), 5.1, 5.5, 6.0
vCenter Server 4.1, 5.0, 5.1, 5.5, 6.0
vCloud Networking and Security 5.5.1, 5.5.2, 5.5.3, 5.5.4
vShield Manager 5.0, 5.1, 5.5
vShield Endpoint
VMware Tools 8.6.0 build 446312 or higher
Integration with VMware NSX Requirements:
ESXi 6.0 or later for each server
vCenter Server 6.0 or later
NSX Manager 6.2.4 or later
VMware Tools 10.0.9 or later
Integration with Citrix
Citrix XenServer 5.5, 5.6, 6.0, 6.2, 6.5, 7.0 (including Xen Hypervisor)
Citrix XenDesktop 5.0, 5.5, 5.6, 7, 7.1, 7.5, 7.6, 7.7, 7.8, 7.9,
Citrix XenApp 6.5, 7.5, 7.6, 7.8, 7.9, Citrix VDI-in-a-Box 5.x
Microsoft:
Hyper-V Server 2008 R2, 2012, 2012 R2 or Windows Server 2008 R2, 2012, 2012 R2 (including Hyper-V Hypervisor)
Linux:
Red Hat Enterprise Virtualization 3.0 (including KVM Hypervisor)
Oracle:
Operating Systems Coverage
Workstation Operating Systems:
Vista (SP1, SP2), 7, 8, 8.1, 10, 10 TH2
Server operating systems:
Windows Home Server, Small Business Server (SBS), 2008, 2011, Windows Server, 2008, 2008 R2, 2012, 2012 R2
Tablet and embedded operating systems:
XP Tablet PC Edition, XP Embedded with SP 2, Standard 2009, POSReady 2009, Enterprise 7, POSReady 7, Compact 7, Standard 7, 8 Standard, 8.1 Industry
Linux:
Red Hat Enterprise Linux / CentOS 5.6 or higher
Ubuntu 12.04 LTS or higher
SUSE Linux Enterprise Server 11 or higher
OpenSUSE 11 or higher
Fedora 16 or higher
Debian 7.0 or higher
Oracle Solaris 11, 10 (only in VMware vShield environments)
Oracle Linux 6.3 or higher
Mac OS X:
Oracle Solaris:
Mobile:
iOS Apple iPhone and iPad (5.1+) (only in VMware vShield environments), Google Android (2.2+)