Bitdefender GravityZone Business Security

Keep your business safe against evolving threats with security that ranks first in independent tests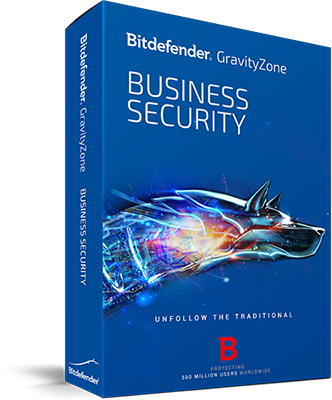 Bitdefender GravityZone Business Security, 1 Year, 3-14 Users
*Price per license. Quantity must be 3 or greater.
#2759ZZBCN120ZLZZ
List Price: $36.95
Our Price: $23.28
DESCRIPTION
Get the business security solution that blocks cyber attacks better than any other!
Bitdefender consistently ranks first in major independent tests for protection, performance, or usability.
Not really sure?
TRY IT 30 DAYS FOR FREE
Additional Products

Bitdefender GravityZone Business Security, 1 Year, 15-24 Users
*Price per license. Quantity must be 15 or greater.
#2759ZZBCN120ALZZ
List Price: $35.12
Our Price: $22.12

Bitdefender GravityZone Business Security, 1 Year, 25-49 Users
*Price per license. Quantity must be 25 or greater.
#2759ZZBCN120BLZZ
List Price: $32.64
Our Price: $20.57
Click here to jump to more pricing!
Overview: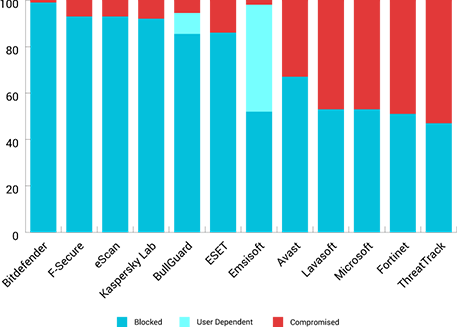 Bitdefender GravityZone Business Security is a bundle of security services designed for small and medium businesses, combining #1-ranked security with the simple centralized management of workstations and servers.
New ransomware variants and other zero-day threats routinely bypass traditional AV/antimalware security.
Using advanced behavior-based technologies, Bitdefender detected 99% of unknown threats in independent trials run by reputed independent testing organization, AV-Comparatives. Bitdefender also has two additional anti-ransomware defense layers – a blacklist of 2.8 million samples and rising, and a vaccine that can immunize devices against the encryption process.
Unfollow the traditional
Bitdefender GravityZone Business Security is a powerfully simple security solution to protect your business. Unlike other solutions, Bitdefender does not trade performance for protection and does not slow down your users' computers.
With Bitdefender GravityZone Business Security, you can focus on your business
You already have enough business issues to take care of. Now you can start focusing more on your daily business and forget about security issues. You don't need to be an advanced IT admin to manage Bitdefender GravityZone Business Security. It can be installed in minutes and managed by users with no IT background.
With Bitdefender GravityZone Business Security, you can save more money and time
You already have a list of cutting costs successes. Now you can add a new one. The web-based version of Bitdefender GravityZone Business Security moves the administration of the security software running on PCs to the cloud, saving the money spent on additional hardware. If you need to protect more geographically-dispersed offices, you will benefit from the centralized security provided by Bitdefender, eliminating the costs of buying and maintaining hardware for each site.
With Bitdefender GravityZone Business Security, you enjoy the best protection and performance
You may have already tried many products to protect your business. Now try Bitdefender GravityZone Business Security, because Bitdefender has consistently ranked the #1 security software in tests by independent reviewers such as AV-TEST and AV Comparatives and it does not compromise protection for performance.
Why GravityZone Business Security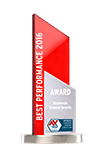 Superior protection without slowing down users
Demonstrated Bitdefender leading protection and performance help you minimize the risks of a security breach impacting your business or slowing down employees' systems.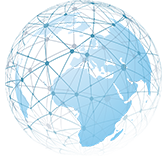 Comprehensive protection and coverage
To ensure you get the best protection, essential features such as Web Filtering, User Control, Firewall, Intrusion Detection, or Device Control, are included with no extra charge.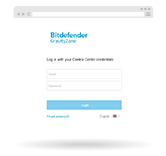 Save time with simple control from the web browser
Protect your business in minutes and get real-time control and security insight from the web-based Control Center dashboard that can be hosted by Bitdefender or within your organization.

Add-Ons
GravityZone Integrated Patch Management
Unpatched systems leave organizations susceptible to malware incidents, outbreaks, and data breaches. Keep your OS and Applications up to date across the entire Windows install base - workstations, physical servers and virtual servers with GravityZone Patch Management.
GravityZone Full Disk Encryption
GravityZone FDE protects data for the entire endpoint hard drive by leveraging the encryption mechanisms provided by Windows (BitLocker) and Mac (FileVault). It takes advantage of the native device encryption to ensure full compatibility and maximized performance. GZ FDE is integrated into the GravityZone Console and Agent, with no additional agent to deploy or key management server to install. The use of existing endpoint security infrastructure to manage Full Disk Encryption enables fully centralized deployment with minimal administrative effort.
Features:
Automatically uninstall legacy solutions
Console is available immediately after signup
Automatically discover network computers using Windows Network Discovery
Start faster with provided security policy templates
Granular policy settings are available for advanced admins, but those without an IT background will also find the solution simple to manage
Implement a powerful but simple solution and eliminate the need for dedicated servers, maintenance or more IT staff
Reduce costs and centralize security for any number of users to a single console
With centralized management, employees never have to update, monitor or troubleshoot security again, and can focus 100% on the business.
Bitdefender consistently ranks first in independent tests so you can relax knowing you have the best protection.
Our solution protects computers against viruses, rootkits, malware, phishing, data loss, web threats and much more.
Advanced heuristics, web filtering, search advisor, USB scanning to block all malware entry point are included
The updates are automatic and users can't interfere withsettings or deactivate protection so your business is protected.
Apply policies based on location or user and allow different levels of freedom, save time when creating new policies by using ones that are already created.
Security Features:

Extended Features List
Antivirus and antimalware
signatures, heuristics, continuous process monitoring and a global threat intelligence network.
Two-way firewall with Intrusion Detection/Prevention
The fully-featured two way personal firewall with Intrusion Detection is essential in blocking intrusion and hijack attempts.
Search Advisor and Web filtering
Potentially harmful websites are marked in the search results and known malicious pages are blocked.
Data protection
Prevent the loss of confidential data by setting filters that will block the transmission of sensitive information.
User web and application control
Restrict or block employee access to applications or web pages.
Power user and Restricted user modes.
You can choose to allow or deny users the ability to modify security settings for their system.
Remote and local quarantine management
The quarantine is stored locally but can be managed centrally from the control console.
Security policies and nested computer groups
Assign security policies to companies or groups of computers.
Multilanguage support
The solution is available in English, German, Spanish, French, and Romanian.
Real-time control of remote users (cloud console)
With the Bitdefender-hosted management console you can control and monitor remote users in real time.
Location-aware policies
Security policies that adapt as users take their systems outside the company.
User-aware policies (on-premise console)
Different security policies can be adapted based on employee roles in the company, they are available when there is an Active Directory integration and are applied when the user logs in.
Network discovery and mass remote install option
After you install Bitdefender on one computer, unprotected systems are automatically detected and you can remotely deploy protection to all of them.
Role-based user model
Internal accounts with different access privileges can be created in the management console.
Plug-and-play console deployment (on-premise)
Using a pre-configured virtual appliance installation means the console can be up in 30 minutes, not hours or days as with other solutions.
Instantly available web console (cloud)
With Bitdefender hosting the management infrastructure, the web console is available right after signup.
Device Control and USB scanning
Minimize risks of infections and data loss with automatic USB scanning and device control.
Removal of competitive solutions
During installation, Bitdefender detects competitive solutions and starts the uninstall process.
Endpoint Security Relay
Product and signature updates can be distributed more efficiently inside the network through a system that works as a relay.
Audit logs
Actions performed in the management console can be tracked in the audit logs.
Email notifications
Set up email notifications to be triggered automatically when certain events occur.
Monitoring Dashboard and reports
Centrally monitor the security posture of the organization using on-demand or scheduled reports.
Policy Inheritance
Enables the administrator to save time when creating new policies by using ones that are already created.
Screenshots: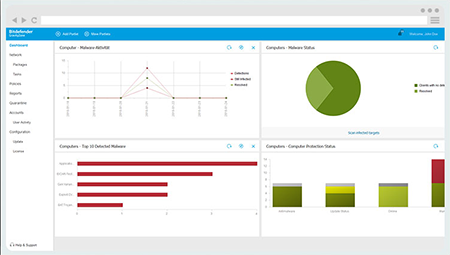 Easily track all security events in your organization
Reports and alerts help you be on top of any business security event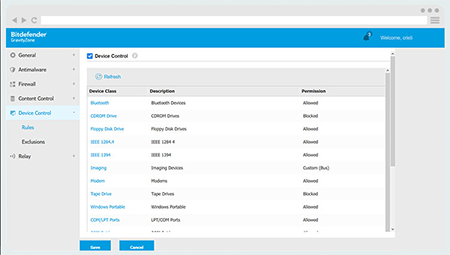 Avoid losing data and confidential information
Block hackers from trying to steal sensitive records or employee information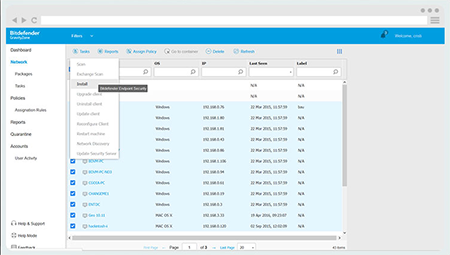 Simple remote deployment
Save time by remotely installing protection on all computers that are unprotected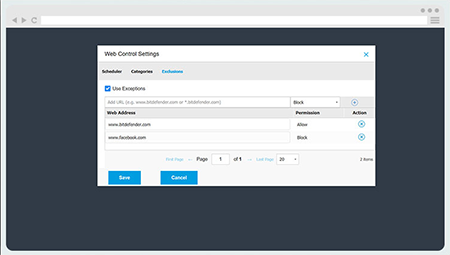 Enhance your business productivity
Control employee access to certain websites or applications.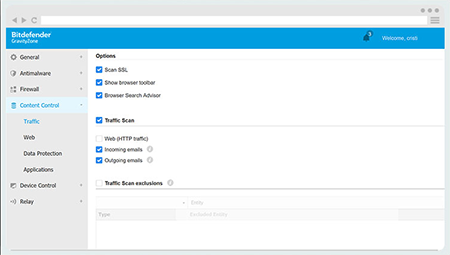 Highly granular security controls
Customize every aspect of security to ensure maximum protection and minimum effort
System Requirements:
Supported Operating Systems:
Windows 10, Windows 8, 8.1, Windows 7, Windows Vista (SP1), Windows XP (SP3)
 Mac OS Sierra (10.12.x), OS X El Capitan (10.11.x), OS X Yosemite (10.10.5), OS X Mavericks (10.9.5), OS X Mountain Lion (10.8.5)
 Windows Embedded 8 Standard, Windows Embedded 8.1 Industry, Windows Embedded Standard 7, Windows Embedded POSReady 7, Windows Embedded Enterprise 7, Windows Embedded POSReady 2009, Windows Embedded Standard 2009, Windows XP Embedded with Service Pack 2, Windows XP Tablet PC Edition
 Windows Server 2016, Windows Server 2016 Core, Windows Server 2012, Windows Server 2012 R2, Windows Small Business Server (SBS) 2011, Windows Small Business Server (SBS) 2008, Windows Server 2008 R2, Windows Server 2008, Windows Small Business Server (SBS) 2003, Windows Server 2003 R2, Windows Server 2003 with Service Pack 1, Windows Home Server
 Linux Operating Systems: Ubuntu 10.04 LTS or higher, Red Hat Enterprise Linux / CentOS 5.6 or higher, SUSE Linux Enterprise Server 11 or higher, OpenSUSE 11 or higher, Fedora 15 or higher, Debian 5.0 or higher.
Hardware Requirements:
Minimum: 2.4 GHz single-core CPU
Recommended: 1.86 GHz or faster Intel Xeon multi-core CPU
Memory:
Minimum free RAM: 512 MB
Recommended free RAM: 1 GB HDD space: 1.5 GB of free hard-disk space
GravityZone Control Center (on-premise console)
GravityZone Control Center is delivered as a virtual appliance and is available in the following formats:
OVA (compatible with VMware vSphere, View)
 XVA (compatible with Citrix XenServer, XenDesktop, VDI-in-a-Box)
 VHD (compatible with Microsoft Hyper-V)
Support for other formats and virtualization platforms may be provided on request.
Compare Solutions:
GravityZone is a business solution that can be installed locally or hosted by Bitdefender. Multi-layered protection with proven machine learning, advanced heuristics, anti-ransomware, powerful anti-exploit, signatures, Firewall and Device Control are included in each of the options below.
GravityZone Business Security
GravityZone Advanced Business Security
GravityZone Elite Security
GravityZone Ultra Security
GravityZone Enterprise Security
GravityZone Cloud Security for MSPs
Ideal for small businesses looking for simple security
Recommended to midsized companies looking for comprehensive protection
Recommended to companies looking for aggressive protection against sophisticated threats
Recommended to companies looking for an integrated next-gen endpoint protection and EDR platform that accurately protects against sophisticated cyber threats
Flexible solution for larger organizations with datacenters using virtualization
Solution for Managed Service Providers to remotely protect all customers with one console, monthly usage-based billing and RMM/PSA integrations
Management options
On premise / Cloud
On premise / Cloud
On premise / Cloud
Cloud only
On premise only
Cloud only
EDR
add on
Intrastructure
Endpoint security
Endpoint Security SD
Endpoint Security SD
Endpoint Security HD
Endpoint Security XDR
Endpoint Security SD
Endpoint Security SD
Datacenter security (SVE)
Mobile Security / MDM

Available on-premise only

Available on-premise only
Security for Exchange
add on
Technologies
Machine Learning AV
Anti-exploit
Application Control (Whitelisting)
Available on-premise only
HyperDetect

add on
add on
Endpoint integrated Sandbox

add on
add on
Visibility of suspicious activities

add on
add on
Process Inspector
Clean up
Smart Centralized Scanning
Ability to offload scanning to central dedicated appliance
add on
Patch Management
add on
add on
add on
add on
add on
add on
Full Disk Encryption
add on
add on
add on
add on
add on
add on
Security for AWS
Protection for AWS machines managed from the same cloud console
add on
add on
add on
add on
add on
Hypervisor Introspection
add on
Available on-premise only
add on
Licensing
bundle
bundle
bundle
bundle
a la carte
a la carte
Data center licensing
Dedicated CPU licensing for virtual servers
Details
Covers servers and desktops. Servers should account for less that 30% of total units
Covers desktops, servers and mobiles + Exchange mailboxes. Servers should account for less than 35% of total units.
Covers desktops, servers and mobiles + Exchange mailboxes. Servers should account for less than 35% of total units.
Covers desktops, servers and Exchange mailboxes. Servers should account for less than 35% of total units.
Each item can be purchased separately and can be activated based on its own license key.
No license key needed per customer, pay at the end of each month, based on usage reports.
Pricing Notes:
Pricing and product availability subject to change without notice.