Bitdefender GravityZone Technologies

Uncover and stop elusive threats with agility and precision.

Global Protective Network
With a worldwide network of 500 million machines, Bitdefender has the largest security delivery infrastructure on the globe. It is 100 million nodes above the nearest competitor. Bitdefender's Global Protective Network (GPN) performs 7 billion queries per day, and uses reflective models and advanced machine learning algorithms to extract malware patterns, ensuring real-time protection against any threat. The system detects, anticipates and takes action to neutralize even the newest dangers anywhere in the world in as little as 3 seconds. It updates the reputation of apps, email sources and websites, and broadcasts alerts.
---
Endpoint Security Tools
GravityZone's intelligent security agent assesses the host machine at installation to self-configure to optimal form, and adapts its behavior according to endpoint accessibility.
Security administrators allocate resources to security tasks through policies per groups of machines. They can set security tools to work on a local machine, or they can decide to rely more on Bitdefender Global Protective Network, or totally offload security to security servers.
Smart Centralized Scanning
Bitdefender is the first security vendor to provide scanning offloading on Security Virtual Appliances since 2011. The scanning process is centralized. Instead of protecting each physical or virtual machine individually, it treats the entire environment as a whole.
Centralized security servers handle most antimalware processes after offloading them from each protected physical or virtual machine.
Small & Medium Business




Keep your business safe against evolving threats with security that ranks first in independent tests

Superior protection without slowing down users
Two-way firewall with Intrusion Detection/Prevention
Save time with simple control from the web browser
Monitoring Dashboard and reports




Stay ahead of cyber-attacks with adaptive security and most advanced machine learning techniques

Comprehensive and cost-effective protection
Leading antimalware security and antispam
Streamlined security management
Integration with Active Directory, VMware and Citrix
Enterprise Business




Uncover and stop elusive threats with agility and precision

Real-time endpoint visibility
One-click investigation
Alert triage and incident analysis visualization
Track live attacks and lateral movements




Stop the most sophisticated cyber attacks with layered next-gen endpoint protection

Detect and block file-less malware attacks
Stop script-based attacks
Automate threat remediation and response
Endpoint Integrated Sandbox Analyzer




Endpoint security fit for your offices, datacenters and public cloud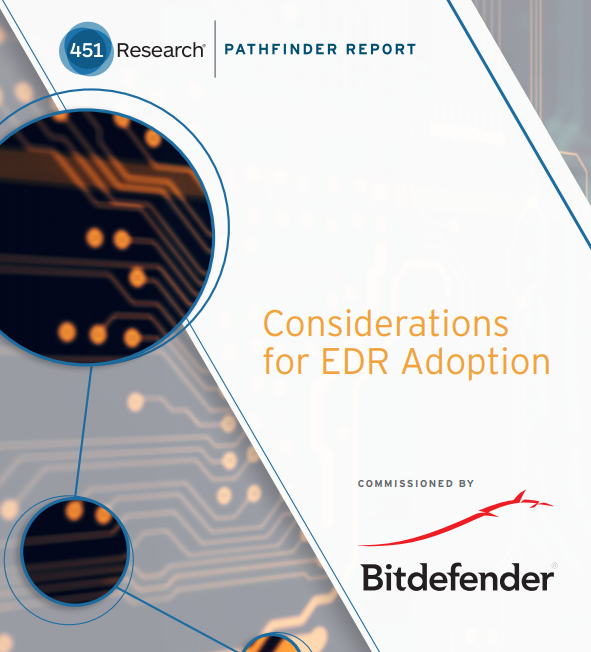 Pathfinder Report - Commissiones by Bitdefender
Midsized organizations should take care when selecting EDR tooling because their needs are typically different than those of larger organizations that have been the traditional market for EDR tools. This paper highlights some of these differences and how they may affect the process of choosing EDR tools. It also includes a recommended high-level process for EDR tool selection.